About The Project...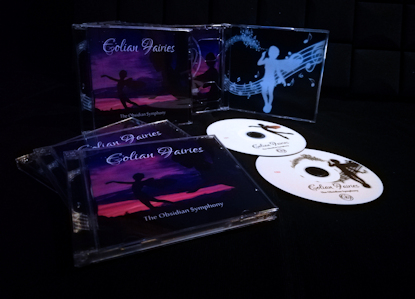 Eolian Fairies - The Obsidian Symphony, is an ambitious orchestral composition born from the creative mind of M.V.Pogliaghi in search of enchanted melodies and pure sounds. Eolian Fairies came from two years of hard work, research, in-depth study, orchestration, arrangement and, let's face it, joy and suffering. Because writing music is like lighting up with hope and setting off to climb the peak of an unknown mountain added to the frustration of not knowing if you will be able to reach it.
In "Eolian Fairies" I tried to convey ideas and create the so-called free music, that music that is not punished like a soundtrack from scenic times or pigeonholed into the scenic pathos that the theatrical representation or film must represent. When you write a soundtrack you are greatly facilitated by the scene because all you have to do is write music that supports it, that surrounds it and wraps it like a shroud. While it won't be particularly beautiful and sumptuous, it will stand up because the work it has to hold is in itself something that already empathically works. And the proof is that, apart from rare exceptions, any soundtrack detached from the context evokes very little. To make a simple comparison, if you have to make a frame of the Mona Lisa, you don't have to spend too much on it... four pieces of blank wood are good. And a frame without its painting is almost useless.
Otherwise, "free music" must stand and stand by itself. It has to tell a story, in its entirety, without holds, without the moral and material support of an actor, of a scenography, of a shrewd joke. And finding all this within oneself is not at all easy. Most of the time you find yourself dealing with moments in which nothing works, does not turn, does not take the right rhythm, the right pathos, the right emotional dimensions. And, when we talk about arts, the most important thing is the emotions they arouses. Music is emotion, a painting is emotion, a story is emotion ... in short, if you don't translate your art into emotion, you have failed!
Note: Eolian (or Aeolian) is not entirely referred to something aerial, but also and above all to the "Eolian" scale which, in this composition, has been decisive for most of the main themes. The attentive and expert listener will discover that the structure given to the main themes is that typical and characteristic of the Aeolian scale (sometimes erroneously called Aeolic), a diatonic or natural minor scale in which the harmonic succession is TSTTSTT ...

))))) ...Music does not come from computers, but from the author. Someone thinks that, since now everything is done with the most advanced DAW software, it is enough to press four keys to produce music and that the computer does everything else. Well, then it means that a beautiful photograph comes from the 24Mpixels camera you used! To believe that, if a photograph taken with an ultra-powerful camera will undoubtedly be a beautiful photograph, it means completely excluding the artist from the creation of a work. IS the photographer, his ability to compose the image, his intuition in capturing the light and also the randomness, luck and inspiration of a moment stolen from life that make a photo a beautiful one. And, if it is good for the photographer, why should it be different for the musician? Why should it be different for the writer? Or maybe someone thinks that a good novel is a good one because of the latest version of a well-known word processor?"